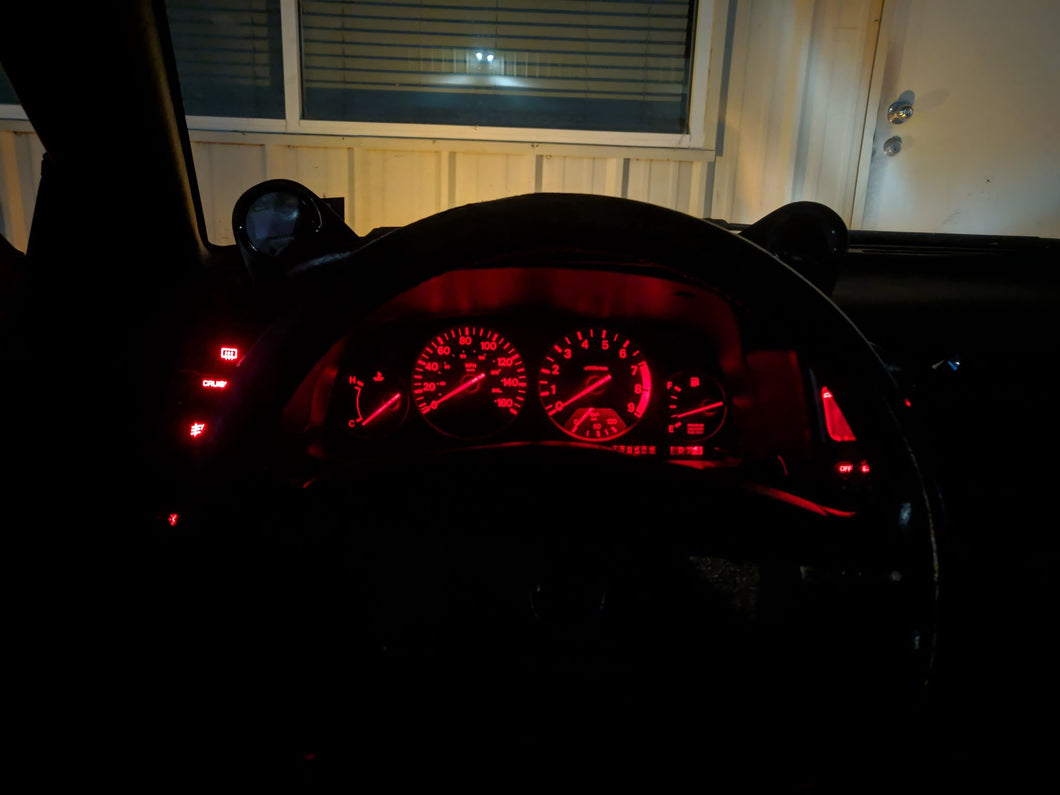 1990-1996 300ZX L.E.D. FULL INTERIOR LIGHT SET
Regular price $84.99 Sale
1990-1996 300ZX INTERIOR LIGHTING L.E.D. SET.
AFTER MANY PEOPLE ASKED US TO PUT A KIT TOGETHER FOR THEM, WE HAVE DECIDED TO ADD L.E.D. INTERIOR LIGHTS TO OUR WEBSITE.
THIS SET INCLUDES THE GAUGE CLUSTER, A/C POD, HEADLIGHT POD, MAP LIGHTS, KEY RING, ASH TRAY, CIGARETTE LIGHTER RING, FLOOR BOARD LIGHTS, AND DOME LIGHT LED BULB IN YOUR CHOICE OF RED, WHITE, BLUE, GREEN, AMBER AND PURPLE.
PURPLE IS ONLY AVAILABLE FOR THE GAUGE BULBS
PURPLE IS NOT AVAILABLE FOR THE PODS OR OTHER LIGHTS.
DOME LIGHT & MAP LIGHTS ARE ONLY AVAILABLE IN WHITE.
 GREEN, AMBER AND PURPLE ARE SPECIAL ORDER ONLY.  PLEASE ALLOW 5 EXTRA DAYS TO OUR STANDARD DELIVERY TIMES
 
THESE ARE PLUG N PLAY L.E.D.'S AND ARE EASY TO INSTALL. NO SOLDERING NEEDED. THESE BULBS ARE VERY BRIGHT, WITHOUT HOT SPOTS  LIKE YOU SEE WITH THE OTHER KITS. THEY ARE LONG LASTING, QUALITY BULBS. MANY OTHER KITS REQUIRE YOU TO SOLDER THE L.E.D.'S INTO THE A/C AND HEADLIGHT PODS. OUR KIT IS PLUG N PLAY. YOU DO NOT NEED TO SOLDER ANYTHING!
THIS IS FOR THE ENTIRE INTERIOR OF A 2+0. THIS KIT WILL WORK ON A 2+2, IT JUST WON'T INCLUDE A LIGHT FOR THE REAR HATCH AREA AT THIS TIME.
2+2 REAR HATCH LIGHT COMING 
*** THERE ARE SOME EARLY YEARS THAT HAVE A DIFFERENT CLUSTER. IT USES 6 194 BULBS INSTEAD OF 4. IF YOU HAVE ONE OF THESE CLUSTERS, CONTACT US TO PURCHASE THE 2 ADDITIONAL BULBS NEEDED. UNFORTUNATELY THERE IS NO WAY TO KNOW WHICH MODELS HAD THIS 6 BULB CLUSTER STYLE UNTIL YOU OPEN YOUR DASH UP***
INSTRUCTIONS CAN BE FOUND ON OUR TECH HELP PAGE

AUTOMATIC CONTROLS
https://www.zshackperformance.com/blogs/news/zshack-l-e-d-bulb-kit-instructions-for-automatic-climate-control-cars
MANUAL A/C CONTROLS
https://www.zshackperformance.com/blogs/news/zshack-l-e-d-bulb-kit-instructions-maual-a-c-controls