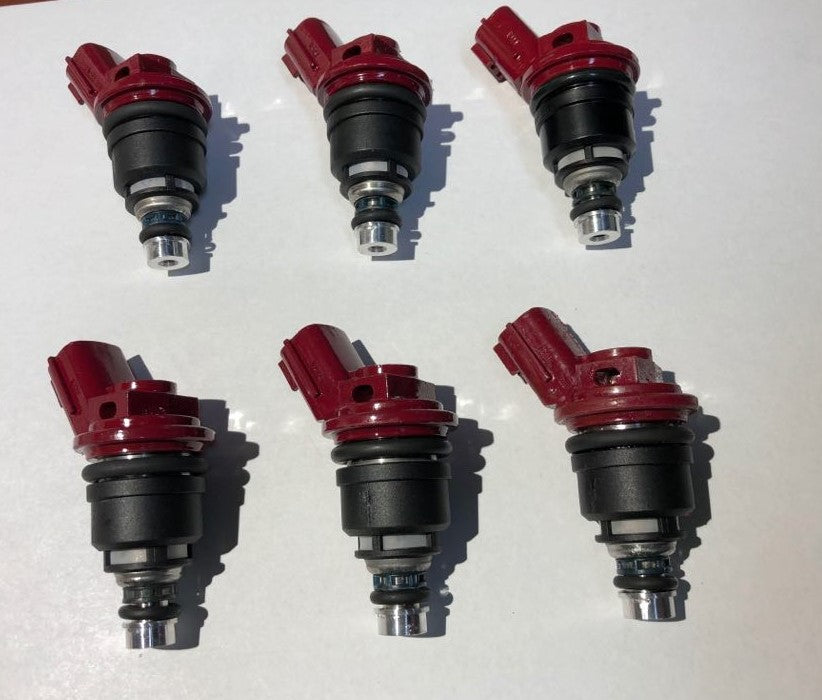 AUS 1200 CC NEW STYLE INJECTORS 10188-1200-6-0 (90-96 NISSAN 300ZX)
Regular price $630.00 $640.00 Sale
AUS performance injectors are a great choice for upgrading your fuel system to handle more power. They fill the gap for people that want more power, but do not want to spend the money to switch to a top feed setup. These 1200cc injectors are the largest AUS makes and will support up to 1200hp on gasoline and race gas like Q16/C16 and up to 900hp on E85. They will work in the stock "new style" Z32 fuel rails and the "old style" fuel rails with the AUS adaptor kit. (Please select the option for the adaptors if you need them)  All our AUS injectors ship with the new ZShack designed aluminum injector caps to eliminate any concern about the plastic caps coming off that ALL side feed injectors can suffer from. This leads to a hydrolocked engine and will often destroy an engine.  We presented the idea to AUS to change the design of their injectors to incorporate An all aluminum cap that is a tight press on fit, but also is crimped on as well to completely eliminate this from happening. AUS gladly worked with us to make this change happen! 
 THESE INJECTORS WILL NOT WORK WITH OTHER ADAPTOR KITS AT THIS TIME! 
These injectors are large for a side feed and will struggle to idle on gasoline. They will idle well on E85 but not completely perfect. They may have a slight periodic misfire at idle due to their large size. Please keep this in mind when ordering this size.
About AUS Injection
AUS Injection was founded in 1997 in Mesa, Arizona to provide stock Fuel Injector products and services for the Phoenix Metro Area auto-shops. Soon after, the Racing Performance Injector program was developed with assistance from Professional Race Teams and Performance Tuners, to create a wide variety of Racing Injectors and provide solutions to enthusiasts, tuning professionals and racers around the world.
Features, Advantages & Benefits of our Racing Injectors
AUS Injection catalogs the most complete line of direct fit performance racing injectors. Our flow matched injector sets are application specific and engineered to outperform the competition.
Specialty injectors are available with:
Flow Rates from 250 to 2200 cc/min.
Impedances from 2.5 to 12.5 Ohms.
Flow Matched Sets within ≤ 2% Static and Dynamic Flow rates.
Great quality at a great price along with a Worry Free Warranty makes AUS Injection the clear leader in Performance Racing Injectors.
Additionally, we ensure that the Coil Resistance Specification of each racing injector unit will exactly match with the original injector impedance. This means, perfect compatibility with the stock ECU. No problems, surprises and no disappointments.
Plus, 99% of AUS Injection Performance Racing Fuel Injectors are Exact Fit. This means; no adapters, spacers or connectors are required for a quick & professional installation. In those few applications requiring adapters or special connectors, they will be included at No Extra Charge.
Before packing & shipping, any order undergoes an exacting Quality Control Test. This assures that each injector has been individually numbered and tested to meet its rigid flow specs & electrical parameters as components of a matched set.
Our Flow Report lists each injector's Real Data including Complete Latency (Off Set / Dead Time table)